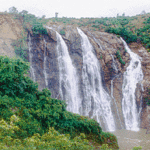 At Shivasamudram, the river branches into two, creating the second largest island in its course. There are a group of ancient temples situated in this island. It is believed that very long ago there was a village in this island. Each branch of the river at Shivasamudram has a separate falls – the western falls known as Gagana Chukki and the eastern falls, Bhara Chukki.
The 90-metre falls on the river rushing through the huge boulders attract the tourists during July-August when the river Kabini also floods along with Cauvery.
Bhara Chukki lies a km or so away from Gagana Chukki. On the way to Bhara Chukki, we visited an ancient dargah situated along the bank, which attracts hundreds of Muslims everyday to visit and worship. After a few yards of walk, we found Bhara Chukki falls, raising a dense mist to a height of about 300 ft. Multitudes of tourists, new couples and youngsters come here to see the natural beauty in its magnificent glory. Compared to Gagana Chukki, Bhara Chukki wears a more serene look, owing to the steady sheet of water falling without many boulders hindering its course downward. Both Gagana Chukki and Bhara Chukki are a paradise for the nature lovers.
After the turbulent fall, the river traverses in a quite manner through a thick green valley at a depth of about 400 feet towards the east.
Shivasamudram is also famous for its hydro power station which was started in 1902 by Sheshadri Ayyar, a dewan of Mysore. This is said to be the first hydro power station in Asia and from here power was supplied to Bangalore — the first city to get power in India – in 1906 and then to Kolar Gold Fields and Mysore.